The volunteers would like the rose garden community to be aware of a major issue we encountered this spring. You may have noticed that the bloom was a little late this year. This is because deer ate 90% of the first bloom at Morcom.
We have purchased $2000 worth of organic deer repellent (egg whites, garlic and thyme oil), and it appears to be working. Application of the product must be done weekly and takes four hours.
If the volunteers and consulting rosarian had not taken initiative, there would be NO ROSES to enjoy this year.
We are asking anyone who is able, to use the Donate button on the left to contribute to this new ongoing project using PayPal or a debit or credit card. Our Home Page also has information about how to mail a check. We are a 501c3 organization.
Thanks for your help!
Dedicated Deadheaders
Do Deer Eat Roses?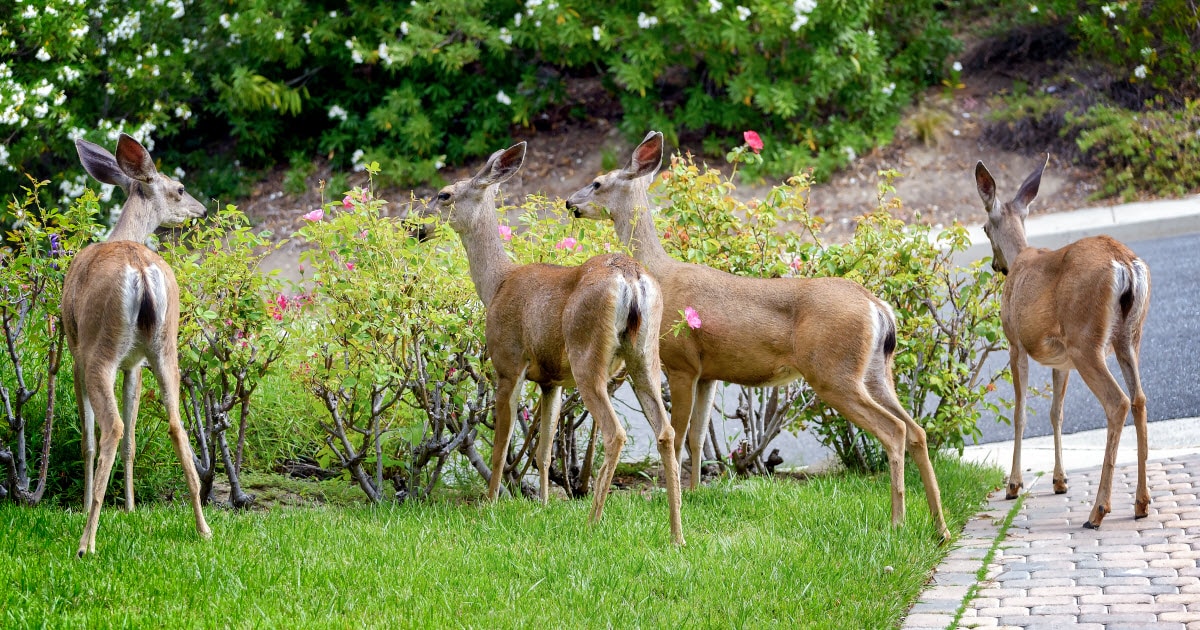 (an excerpt from https://worlddeer.org)
Has something been munching at your roses? If so, maybe you are at a bit of a loss figuring out the culprit. If you live in a suburban or rural area where there are deer, it just might be that a whitetail is raiding your garden. Do deer eat roses? In short, the answer is yes, deer do eat roses. Not only do they eat them, they think they're delectable. Deer usually start lurking around your rose bushes at night. There are occasions, however, when you might notice them eating roses during the day. In today's article we'll explore why deer love to eat roses, share which parts of the plant are most at risk, and provide some tips to keep deer from eating your roses. Let's dive right in!
Do Deer Prefer Any Particular Parts of the Rose Plant? A deer will eat pretty much every part of the rose plant, including the foliage, blooms, and buds. They will sometimes even eat thorny canes on your rose bushes. That said, a deer's favorite part of the rose plant is new growth. This is where things are tender, even the thorns to an extent. The average amount of plant material a deer will take from trees and shrubs is between five and 15 pounds a day. This means that even one deer can do significant damage to your rose garden in a short period of time.
How Do I Keep Deer Away from My Roses? There are deer repellents that you can try. Be aware, though, that you will have to reapply this periodically. You will always have to reapply it after heavy rain.